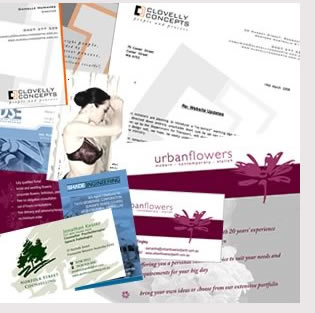 Over the years, Skopos Web Design has become increasingly involved with producing high-quality print artwork in addition to creating screen-based artwork.
Website customers have become more aware of the advantages of creating a consolidated, integrated corporate image. The graphic design aspect of the business began as a number of customers requiring a website were starting completely from scratch, and therefore required the development of a logo and corporate colour scheme as an initial part of the website development project. Once the websites for these clients had been completed, they often requested designs for business cards and flyers that complemented the design of the new website.
This side of the business has grown sustantially over time, and Skopos Web Design now regularly produces high-quality artwork for business cards, flyers, letterheads, signage, (awning signs, a-boards, etched glass etc.) posters, gift vouchers and ribbons.